This post is sponsored by Etsy via RewardStyle.
Since moving to my new place, I've become even more obsessed with homeware and interiors. I waste many hours scrolling through Pinterest, planning every aspect of my home, from the corner in my living room, right down to office accessories.
I've ditched shoes for shelves and lipstick for lamps and you know what? I am NOT complaining lol.
I've been shopping at various different retailers and online brands for the past few weeks, but the one place that I keep going back to, for affordable home decor and/or individual homemade stuff is Etsy! I didn't realise how many amazing things were available to buy on there at such reasonable prices. It also caters to different tastes too! I found loads of stuff listed as 'industrial' and 'scandi' as thats the style I'm after, but theres also thousands of 'girly' and 'shabby chic' stuff - if that's what you're after. Whatever you're on the hunt for, Etsy seems to have it.
So, I thought I'd talk through a few new Etsy home additions just incase you're obsessed with interiors too!
The Living Room
Wire & Copper Alphabet Light
Vintage Pendant Lamp
Banksy 'Balloon Girl' Framed Print
Set of 4 Industrial Desktop Drawers
I am literally obsessed with this space in my living room. The Banksy print and pendant lamp are two of my faves! I love the industrial theme I have going on here with the cute light adding a lil cosy feel. There are SO many prints on Etsy which has given me an idea for making the back space behind this setup an entire, huge print wall. V. excited!!
Ivory White Rug
Designer Inspired Vase
I'm not sure where I'm going to put this rug yet (right now its a flatlay prop lol) #bloggerproblems. I actually purchased it because I thought it would look nice with the flooring I have. Its cotton, handwoven and good quality. I think it may also suit going underneath a coffee table or a group of plants? Let me know where you'd put it. I also fell in love with this designer inspired vase. I'm going to put some green and navy pebbles inside of it to match some other stuff in my living room.
The Kitchen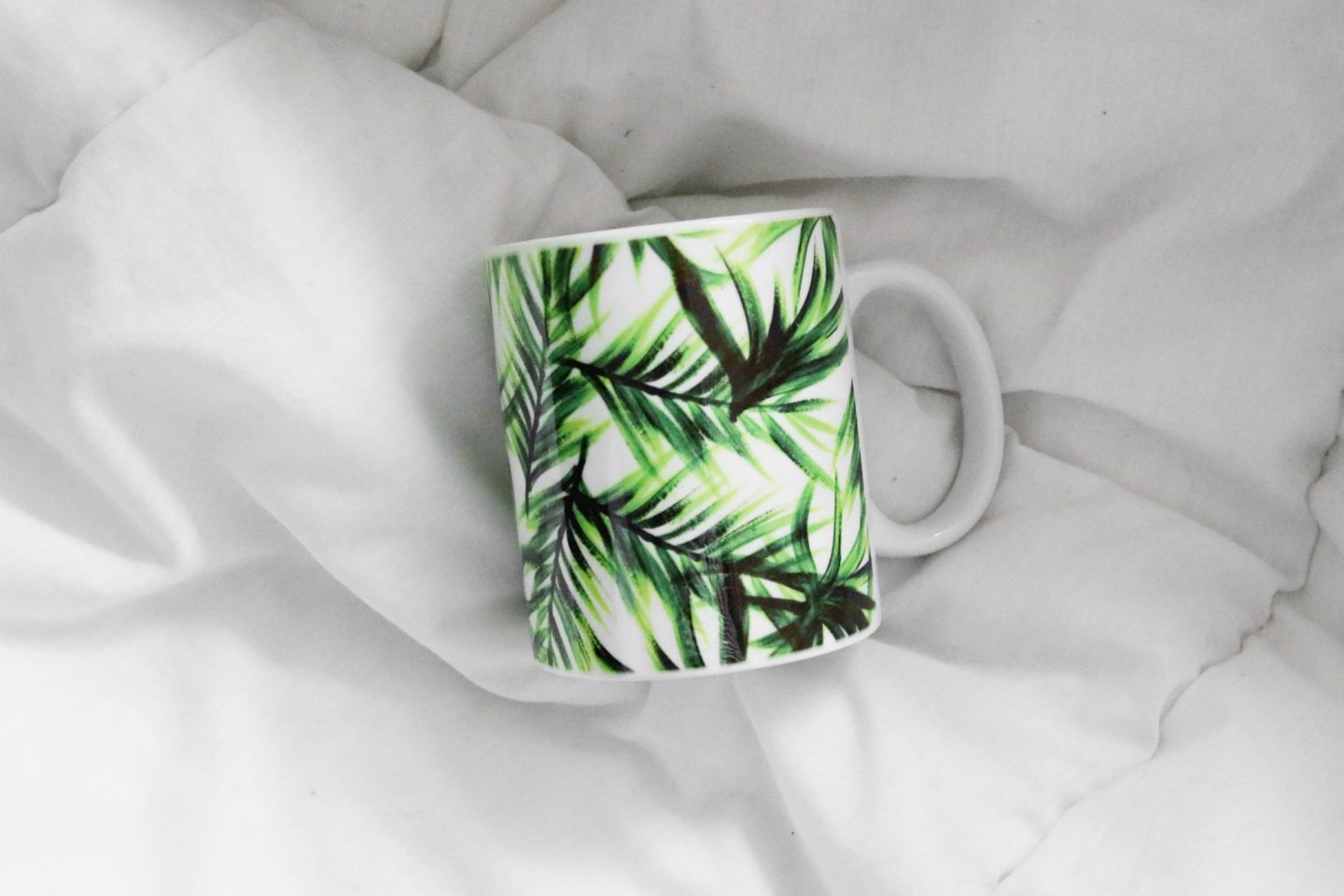 Marble Coasters
Leaf Print Mug
Because everyone needs marble and leaf print in their lives right? Why does drinking out of a nice mug make the tea taste SO much better?
The Bedroom
Little Spoon & Big Spoon Pillowcases
I'd previously seen these pillowcases on Instagram & Pinterest and I think they're so amazing. They're a little individual touch that go with pretty much any duvet set. I really like the font used too! These are going to look fab in weekend Instagram posts as they're great for flatlays of avo on toast!
The Office

I am so so pleased with this mousemat. It really adds some colour into my predominately white office, plus its just so damn cute. I bought it on a whim as I wasn't too sure if it would look good in real life, but it does and just looking at it makes me happy.
And there we have it. My Etsy Homeware Haul! I hope you enjoyed this post and its inspired you to browse Etsy for home decor and interiors! Big love to them for sponsoring this post.
Shop The Post